---
The Shenanoah Valley has a very fragile ecosystem and we
all need to become aware of this fact!
Access to a secure, safe and sufficient source of fresh water is a fundamental requirement for the survival, well-being and socio-economic development of all humanity. Why do we continue to act as if fresh water were a perpetually abundant resource?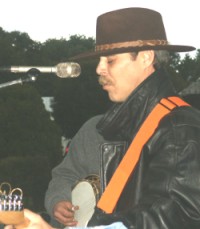 The Shenandoah River Song by Rick Harris JR Download this fine >>Mp3
---
OH SHENANDOAH, WE NEED CLEAN WATER...
Scott Christopher Murray is an accomplished singer/songwriter and a veteran of the acoustic music scene. Raised in the heart of the Shenandoah Valley of Virginia, Scott grew up absorbing its rich story-telling tradition and Appalachian music legacy. His first album "The Old Man Dreams," a collection of original material, was a regional success. more info
---
The Shenanoah Valley is very fragile.
Learn why the Shenandoah Valley is so different:
Read This: >>> SHENANDOAH VALLEY UNDERGROUND STORY
Water pollution comes from thousands of sources, including siltation, nutrients, bacteria, oxygen-depleting substances, metals, pesticides, herbicides, toxic chemicals and other habitat-altering materials. We may all be unwitting contributors to pollution through the application of lawn pesticides, fertilizer runoff, the improper disposal of household chemicals, failing septic systems, or unprotected high concentrations of animal manure. We need to be aware of how valuable our water supply is and how to better conserve it.
The greatest environmental challenge today is to address the numberless sources of water contamination. Billions of dollars have been spent in an attempt to clean our waters; and yet, convincing Virginians not to dispose of used motor oil down the drain or by pouring it on the ground or to pump out their septic tanks regularly remains a daunting task. From wellhead protection to saving our bay, the result is the same. We all profit from pollution prevention.
Learn why the Shenandoah Valley is so different:
Read This: SHENANDOAH VALLEY UNDERGROUND STORY
Shenandoah Valley Environmental Forum - Pure Water Forum
Chesapeake Bay Foundation - Potomac Conservancy
Lord Fairfax Soil and Water Conservation
Valley Conservation Council
Department of Environmental Quality
Department of Conservation and Recreation
---
Shenandoah Valley Environmental Forum


Use this board to speak out and ask questions...
---
A few facts about used motor oil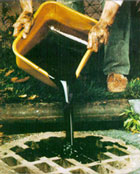 * One gallon of used oil that is disposed into water impacts 50 people's drinking water for one year.

* In Virginia folks who change their own oil dispose enough oil on the ground to match the Exxon Valdez every four years. Four million gallon of used oil each year are unaccounted for by Virginia do-it-yourselfers. Six million oil filters are lost in the Commonwealth (each containing 6-8 ounces of used oil) and one million gallons of antifreeze.
We all need to help involved to stop this from happening!
If you see people dumping used motor oil on the ground tell them to stop it!
Please bring used motor oil to be recycled at
Advance Auto or Auto Zone
* Used oil can be recovered and either burned as a fuel (140,000 BTU per gallons) or re-refined back into a new lubricant. Used oil just gets dirty but never wears out.
* There are roughly around 150 used oil collection centers including several auto supply chains who will recycle your used oil.
Did you know.....
If you recycle just two gallons of used oil it can generate enough electricity to run the average household for almost 24 hours.
---
The Friends of the North Fork Shenandoah River
is a volunteer, non-profit, scientific organization dedicated to the preservation and protection of the Shenandoah River watershed and its tributaries. 540-459-8550

Conservation Matters Blog by Rob Arner
Many people dream of one day owning a place in the country. However this could turn into a nightmare if you know little or nothing about the private well and wastewater system in your purchase. Is the water adequate or of poor quality? How will you dispose of your wastewater safely? Unlike city dwellers, rural homeowners are usually responsible for their water and wastewater systems.
Shenandoah County, VA - Water Resources Report
---
Shenandoah Valley Environmental Links
Appalachian Voices

We believe Appalachia's future lies in celebrating and safeguarding the region's beautiful mountains and rich culture, rather than repeating the boom-and-bust cycles of the past that led to a degraded environment and endemic poverty. Appalachian Voices is dedicated to protecting and restoring the ecological integrity, economic vitality, and cultural heritage of the central and southern Appalachian Mountains. www.appalachianvoices.org
---
Environmental Awareness
Environmental Awareness - Knowing Your World - Natural Resources, the Environment and Ecosystems - Environmental Awareness Resources - Center for Environmental Awareness and Education
---

George Washington:
The Composter of Our Country
By Rob Arner

Everyone knows that George Washington was the father of our country, but how many people can claim to know that he was one of our nation's first dedicated composters. As archaeological excavations at Mount Vernon have revealed, Washington was a pioneer of progressive farming, who constantly experimented on how to make the soil at his estate more fertile. Archaeologists at Mount Vernon have conducted extensive investigations of what the first president called his "stercorary" or dung repository, located near the estate's stables.

Washington was extremely specific in what he wanted built, and in May 1787 wrote to his farm manager detailing the building's construction. "When you go about the repository [sic] for the compost," he wrote, "at the mouth of the drain by the stable, if the bottom should not be of good clay, put the clay there and ram it well before you pave it, to prevent the liquid manure from sinking, and thereby being lost, this should also be done on the new sides, which are to be walled up." He also directed that the manure pit have masonry sides and paved bottom lined with cobblestones. The building was long and narrow and open all around with a shingled roof supported by posts set on a brick foundation.

By 1794, tobacco crops at Mount Vernon had so depleted the soil of its nutrients, that Washington noted in his diary, "Unless some such practice prevails, my fields will be growing worse every year, until the crops will not defray the expense of the culture of them." He thus explored many ways of composting. He tried adding manure, river and creek mud, fish heads and plaster of paris to the farm's soil. And in the repository, he had manure mixed with other organic materials and applied as fertilizer to the gardens, orchards and fields. So far, the Mount Vernon dung repository is the only structure of its type documented to exist in colonial America. In addition, preliminary research in England has yet to produce any similar structures dating to the 18th century, although open-air dung heaps and roofed sheds used in composting seem to have been relatively common there by the 19th century. Today, less than half a mile from the site of the dung repository is a new educational project devoted to portraying the way Mount Vernon was farmed in the 18th century. Known as "George Washington: Pioneer Farmer," this interactive exhibit shows how Washington experimented with crop rotation and with different crops, fertilizers and soil amendments. Washington placed a high priority on careful management of the land and its resources. He not only experimented with organic materials and animal manure but also rejected such farming practices of his day as shallow plowing, which led to erosion of the topsoil. He characterized the practice as "misguided, destructive and wasteful." Maybe there were others composting in America before George Washington. Whether he was the first to have a dedicated building for the process may never be known. It is known, however, that he was the first to pioneer sustainable farming to preserve Mount Vernon. Contact Rob at: rarner@shentel.net
Shenandoah Valley Farms - Shenandoah Valley Farmers Page
Community Supported Agriculture Shenandoah Valley
---
Shenandoah Valley's online guide to small business, arts, non-profits, and local
events in the beautiful Shenandoah Valley of Virginia.
The Shenandoah Connection
Small Business Arts Networking - Advertising - Free Posting Boards
by ShenandoahConnection.com
Our Vision is to change the way people think about the internet. We provide community focused networking to the many communities both online and offline. We provide a platform for networking by offering memberships to our service and through advertising strategies. We strive to bring together the best of every industry in the region and introduce them to our members and viewers through our family of web sites. Learn More

Shenandoah Connection featured in West Virginia Executive Magazine. Read Here
GrassRootsNetworking.com
Collective Marketing - Business Networking - Team Players Business Network

GrassRoots Business networking is a collective marketing method by which business opportunities are created through social networks of like-minded business people combined with the power of search engine optimization techniques.
In both the Biz2Biz markets and Business-to-Consumer fields,
GrassRootsNetworking.com combines the best of both worlds.

GrassRoots Business Networking builds online business communities. We partnership with other business organizations. We don't need sophisticated technology and infrastructure to build our online communities, we just seek and find the honest hearted team players to work with. About Us
If you are an honest hearted team player and a GrassRoots Networker
we would like to hear from you. Call us at 703-722-6012
GrassRoots Forum
Join us on our GrassRoots Networking Forum to expand your business contacts, generate new leads and learn the most effective grassroots networking strategies.
ShenandoahConnection.com | About Us | News | Testimonials | Free Classifieds | Sign Up|
Back to Home Page