Best Dining in Winchester Virginia
Violino Ristorante Italiano - The best of Winchester
181 N Loudoun Street Winchester - 540-667-8006

The food is supurb, well presented and imaginative; the waitstaff expert in service, food knowledge and wine; the ambience is delightful, from the decor to the strolling violinist on the weekends. Tell them you found them on ShenandoahConnection.com.
Vote for the Best place to eat in the Shenandoah Valley on Twitter
---
Best Dining Shenandoah Valley - Dining in Winchester VA
101 North Loudoun Street - Winchester, VA 22601
Centrally located on Winchester's Historic Walking Mall across from the
old Courthouse-Civil War Museum.

The Victorian Cast Iron Union Bank Building is being restored, as original in 1878. A true Historic Landmark of Winchester. The entry with its 20 foot high ceilings will offer a dining area. The rear extension is a true Authentic & Traditional British Pub in theme & decor!

The Food & Beverages:
A 50 foot long bar will offer a huge selection of European Beers, plus a large wine selection. Naturally, the Pub fare will be Authentic British. Cream Teas with sandwiches and scones will also be offered.
Selection and quality - Excellent!
Prices - Affordable!

Are you tired of NOT finding a true British and UK dining experience? Your search is over.
Entertainment:

The 18 foot high second floor is our "British Invasion", with stage and sound system, offering a live music venue. Skittles, Darts and other pub games will add to the fun! League games will be encouraged with snack offerings. This charming section will also be available for Special Event & Business use by reservation.

London Taxi Service:

"Jack", our retired London Taxi will be available, by reservation, for special event use: such as Weddings, Birthdays, Proms, Anniversaries, etc.

"Jack" is also wheelchair accessible. He comes dressed with a "theme" bow and flowers for your special destination event within the Winchester-Frederick County area.
Owners & Hosts:
Richard Oram & Debra Johnson - (540) 722-2055
www.theunionjackpub.com
Dining - Attractions & Museums - Shopping - Services
Live Music Old Town Winchester Events
Bright Box, is a dynamic performance venue, located on The Old Town Mall in Winchester, VA.
Old Town Winchester VA Friday Night Live
---
Winchester VA Catering and Banquet Services
Shenandoah Connection works with many of Shenandoah Valley wedding venues for small and large weddings and catered special events such as corporate retreats, conferences & receptions. 540-249-3209
SHENANDOAH
GOURMET CATERERS
Seasoned Gourmet impeccable service, attention to detail and careful crafting of fresh gourmet foods has helped to distinguish us from our competition and placed us at the forefront of today's culinary experience.
Whether planning a corporate event, wedding, holiday party or social occasion of any kind, We impress the most demanding clientel with extraordinary menu concepts, courteous and professional staff and a wide range of services. Our goal is to satisfy even the most discriminating palates and make any occasion memorable- beyond your expectations.
Weddings - Corporate events - Special Events - Wine Tastings - Local Vineyards - Four Star
---
Shenandoah Valley Virginia online guide to small business, arts, and local events
in the beautiful Shenandoah Valley of Virginia and West Virginia.
Shenandoah Valley Web Connection Guide
Small Business - Arts - Tourism - Advertising
by Shenandoah Valley Connection Group
The Shenandoah Connection Group is a grassroots organization that provides community based, small business and arts networking for area professionals with the objective to encourage creative partnerships in an changing economy.
Fuller House Inn Winchester
A Fine Historic Bed and Breakfast Inn of Winchester Virginia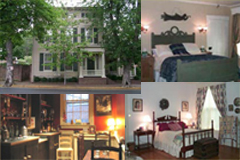 Toll free (877)-722-3976 Local (540)-722-3976
Fuller House Inn is a small B&B Home stay. Overnight guests enjoy spacious accommodations. Each room in the main estate house of Fuller House Inn features authentic Period Décor. Thus full size antique beds and antique furniture adorn the Colonial Room Suite and Civil War Room. We cater to your privacy by providing a TV, refrigerator, coffee & tea maker with ample seating in both rooms. Complementary wine, cheese & crackers, along with plenty of candles are provided for a romantic evening. A full breakfast is delivered to your room. Every room has a private bathroom next to the room.
Downtown location is fabulous, walking distance to Historic Downtown Winchester for your choice of fine dining restaurants & music entertainment. Only 2 1/2 blocks for these & many other points of interest-Museums, Library, shopping & more!
The carriage is especially a treat for Honeymoons, anniversaries, special holidays and events. The inn and grounds can be reserved for small special events Winchester VA corporate rentals and retreats, conferences, or small weddings & receptions. Bed and Breakfast Winchester VA
In addition to providing easy access to web pages and services in The Shenandoah Valley, Google has set up this special feature to help you find exactly what you're looking for with a click of the mouse. List Your Business with us!
How Will People Find Your Website?
On the First Page of Google! more info
"FYI-Our Business has improved & we are finally being found on search engines, Since working with Shenandoah connection & Mark. No other advertising has been so effective for us - ever. Mark has also been greatly helpful with our web site and is always available for suggestions & help. The ability to be able to link with others in the Valley & our specific area is a great concept & asset. I hope more folks will join the "Connection"! Fuller House Inn in Winchester - Debra
Old Town Winchester VA Apartments - Corporate Rentals Winchester VA
Luxury Apartments Winchester - Historic Rentals Winchester VA
Winchester Downtown Commercial Space
Winchester Virginia Homes and Real Estate
Winchester Virginia Homes for Sales
---
Shenandoah Valley Website Design with Promotion
The Shenandoah Connection Network
Networking Business and the arts in Virginia and Beyond!
Call 540-984-8190
Shenandoah Connection has developed strategies that have enabled clients to get a much higher position on the major search engines than their competitors. Our strategies are based on 10 years of experience in marketing business online. We spend a lot of time with our clients discussing and reviewing the competition and understanding the local and regional markets. We conduct a business analysis and develop unique selling points for the business. We enable our clients to achieve greater success with relatively lower marketing budgets in highly competitive markets. more info
Shenandaoh Valley Virginia and West Virginia
Business Networking Directory
Shenandoah Valley on Weebly and ShenandoahsBest.com
Albemarle County VA - Augusta County VA - Clarke County VA - Frederick County VA - Page County VA - Rockbridge County VA - Rockingham County VA - Shenandoah County VA - Warren County VA - West Virginia Shenandoah Valley Travel - Shenandoah Valley Advertising - Shenandoah Valley Arts - Shenandoah Valley Business Advertising - Shenandoah Valley Business Marketing - Shenandoah Valley Business Networking - Shenandoah Valley Website Promotion and Marketing - Shenandoah Valley Search Optimization - Cooperative Marketing
Shenandoah Valley Online Marketing - Shenandoah Valley Online Business Promotion - Internet Advertising Shenandoah Valley Business - Search Engine Optimization - Shenandoah Valley Business and Arts Guide - Shenandoah Valley Online Business Marketing - Online Promotion and Marketing Services - Shenandoah Valley Business Directory - Radio Advertising Shenandoah Valley - Virginia Business Networking - Shenandoah Valley Business Networking - Shenandoah Valley Business- Shenandoah Valley Search Engine Optimization - Shenandoah Valley Search Engine Marketing - Small Business Marketing in the Shenandoah Valley - Free Advertising Shenandoah Valley
Virginia Business Networking - by VABusinessNetworking.com is leading the way for Virginia Business to take advantage of online business net working. We provide powerful online search engine marketing tools that generate results for your business in Virginia
If you have any ideas, comments, suggestions or would like to work on a project with us please do not hesitate to call 540-984-8190
ShenandoahConnection.com | About Us | News | Testimonials | Free Classifieds | Sign Up|
Back to Home Page