Pāte de verre is a labor-intensive form of glass casting that dates to the second millennium B.C. The Mesopotamians were the first to leave records of the process which they used for inlays in jewelry and sculpture. The Egyptians improved on their techniques, using pāte de verre in intricate mosaics and vessels between 1500 and 1000 B.C. The Egyptian word for pāte de verre translates to "stone that flowers," no doubt because of the gem-like quality of its color and light reflection.

In the 4th and 5th centuries, Persians used pāte de verre to produce exquisite vessels. Glass studios prospered across the Middle East through the 1st century A.C. and the process became increasingly refined.

After the Romans invented glassblowing, glass became easier and less expensive to produce and pāte de verre all but vanished until its revival in Europe in the 19th century. Influenced by archeological discoveries, French artists like Gabriel Argy-Rousseau and the American Frederick Carder reinvented the process, helped by technology of the Industrial Revolution.

Fine Sculpting/Etching Glass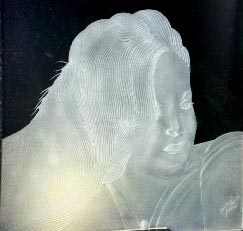 The Warsing name and talent is not new to the world. It is out of Europe and goes back 500 years. His exhibitions are numerous: South Florida, Vancouver, Australia, and Texas to name a few. James has presented an etchings around the world. The harness horse racer sculpture was shown at the Historical Hotel in Cheyenne, Wyoming at its 108 years of Frontier Days 2004. James, himself, has over 28 years of experience in artwork. more info

Corporate Art by Commission

sculpture art, portraits, reproductions and more...
Looking for an artist to commission for fine art for offices, homes designers, or
the corporate sector and private clients?
We represent a growing list of artists who love to work on a commission basis. Let us know your needs. We would be most happy to assist you in finding the right artist to work with.
Website Design Promotion for Artists
---
Networking Small Business and the Arts - USA
Our Objective is to foster and encourage creative partnerships
between business and the arts...
We are looking to network with Art Groups, Musicians, Cultural Art
Centers and businesses in the USA and beyond. shenandoahmusic@hotmail.com
USA Musicians Network
USA House Concerts - Musicians Services - Online Session Musicians
UpComing Stars - Chords and Lyrics - GrassRoots Musicians - Guitar Shows
Long Island Musician - World Music List
USA Musicians Networking Forum
Online business networking forums, discussions on connecting
and creating grassRoots business opportunities online and off line.
How Will People Find Your Website?
First Page Search Engine Optimization
---
Not getting noticed in your community for what you do? Not being found on the search engines? Looking to locate and work with honest hearted team players?
Then you need to join!
Collective Marketing - Business Networking Powered by Search Engine Optimization
GrassRoots Business networking is a collective marketing method by which business opportunities are created through social networks of like-minded business people combined with the power of search engine optimization techniques.
In both the Biz2Biz markets and Business-to-Consumer fields, GrassRootsNetworking.com combines the best of both worlds.

GrassRoots Business Networking builds online business communities. We partnership with other business organizations. We don't need sophisticated technology and infrastructure to build our online communities, we just seek and find the honest hearted team players to work with. About Us
GrassRoots Artists - GrassRoots Computer Services - GrassRoots Musicians - GrassRoots Web Promotion - Grassroots Farmers - Website Design - GrassRoots Web Promotion - GrassRoots Indie Filmmakers - GrassRoots Writers - GrassRoots Real Estate Services - GrassRoots Medical Innovations - GrassRoots Networkers - Website Design with Promotion - GrassRoots Forum - Americana Rhythm - Espańol - NC Business Networking - North Carolina Mountains - Long Island Business Networking - Shenandoah Valley - USA Musicians - VA Business Networking - Website Promotion - GrassRoots Network - GrassRoots Web Hosting - Washington DC Metro Business Networking - World News Links
Worldwide Business Networking
by GrassRootsNetworking.com
If you are an honest hearted team player and a GrassRoots Networker
we would like to hear from you. Call us at 703-722-6012
New! - GrassRoots Networking Forum
"Committed to networking the arts and business in the Shenandoah Valley and beyond" - Go GrassRoots
Glass Crafting, Stained Glass, Fused Glass, Glassblowing, Kilncrafting, Pate de Verre
If you have any ideas, comments, suggestions or would like to work on a project with us please do not hesitate to call 540-984-8190
ShenandoahConnection.com | About Us | News | Testimonials | Free Classifieds | Sign Up|