---
ShenandoahConnection.com Network Sales Team
In need of sales people and web designers to join our team.


Located in Edinburg Virginia, 22824
We are currently seeking sales persons for work in a commission-sales environment for The Shenandoah Connection Group of Websites. This position is strictly commission based with commission paid after collection from the client. Serious inquiries only. Contact Mark Barreres for more information. - 540-335-8190 or 703-722-6012
Shenandoah Valley Web Designers - Wanted to join our team!
Shenandoahs Best - Shenandoah Connection - Shenandoah Valley Weddings - Shenandoah Valley Arts - VA Business Networking - GrassRoots Networking - Shenandoah Valley Web Services
WebPromotion.com has been providing SEO services since 1996. Using a unique approach of building proprietary directory websites, many small businesses have been able to rank well in the search engines for requested keywords over the years. Headquartered in the beautiful Shenandoah Valley of Virginia, we spend considerable time with local community businesses to market their products and services. We also network with other local representatives around the United States to similarly support the local communities.
---
Why not become self-employed?
Work from Home in The Shenandoah Valley
__________________________________________________
The people at Legitimate Home Jobs are dedicated to helping you find the job or business that will meet your needs. All jobs or businesses on this site are legitimate.
Make Money Working From Home
How to Find a Real Legitimate Online Income Opportunity - Creating Legitimate Income Online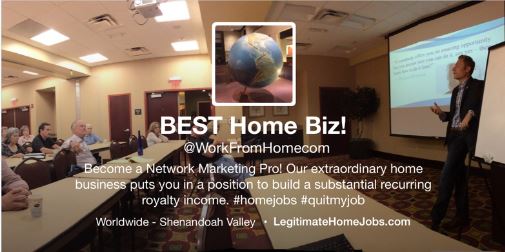 Want to work from home, or who just want to tap into multiple income streams. We are looking to connect you with the RIGHT people in our GrassRoots Network--people who work from home and are willing to help you avoid scams and become successful.
We at LegitimateHomeJobs.com are building a lifeline relationship network of people who work from home. We give to one another heartfelt feedback, perspective, and input that are the lifeblood of effective home based business leaders and decision makers. The better you become at building such relationships, particularly in your professional life, the better you'll be at what you do, and the more value we all bring to the table. - Make Extra Money Working From Home
________________________________________________
Women Working From Home in The Shenandoah Valley
| | |
| --- | --- |
| | "I love being a Younique Presenter! Owning my own Younique business allows me the opportunity to work from home, choose my own hours, and dictate the time and effort I want to put into my business, on my own terms. I am happy to be your personal Younique Presenter to show you all of these amazing products." Sheena Sours, Armentrout |
---
In addition to providing easy access to web pages and services in The Shenandoah Valley, Google has set up this special feature to help you find exactly what you're looking for with a click of the mouse. List Your Business with us!
Shenandoah Valley FREE Classifieds >>>
Virginia Trash FREE Classifieds and Want Ads - Forums and Online Lists
Why not become a Massage Therapists Jobs in The Shenandoah Valley?
Massage Therapy is a rewarding and challenging field. Not only do you help others, massage therapy is a career that will enhance your own life and others...
Shenandoah Valley Schools of Therapeutic Massage
Massage School in VA - Holistic Health Training Shenandoah Valley - Continuing Education for Massage Therapists in VA - Alternative healing Classes Shenandoah Valley - Training for Massage Therapy Shenandoah Valley - Massage Classes VA - Swedish Deep Tissue Training VA - Myofascial Massage Training - Massage Clinic Virginia - Healthy Living Certification VA - Careers For Certified Massage Therapist - Bodywork Training - Energetic Healing Classes - Emergy Medicine Training
If you are a massage looking for clients call Mark Barreres at 540-984-8190 to get on our list.
---
Welding Classes in New Market Virginia
Welding Classes in New Market, Va - Beginners and advanced available. Evening classes (6pm-8pm) Tuesdays and Thursdays for a total of 6 weeks-12 classes (total of 24 hrs). Session includes all materials, hands-on application and individual instruction. Cost $295.00 Call Randy at 540-292-3511. Welding certification available for additional fee.
---
Online College Education Courses

Distance education is fast becoming the way for people to earn college credit from the comfort of their own home. Online schools and education delivers college courses from accredited colleges, schools, email forums, and universities to many locations using technologies like interactive Internet programs and CD-ROM disks. Classes are virtually the same as those taught on campus except that a physical distance separates the teacher and you.
We are dedicated to helping you find the job or business that will meet your needs. All jobs or businesses on this site are legitimate.
SAT Test Preparation - Courses & SAT , PSAT
Prep in Northern Virginia - Maryland, Washington DC Metro SAT Tests
---
La Coneccion de Espaņol
La Coneccion en Espaņol de virginia esta buscando dueņos de su propia compaņia o negocios en la comunidad latina en el valle de shenandoah y sus areas vecinas
The Spanish Connection
---
Shenandoah Valley Virginia online guide to small business, arts, and local events in the beautiful Shenandoah Valley of Virginia and West Virginia.
ShenandoahConnection.com
Business Marketing - Arts - Online Advertising SEO Marketing
by Shenandoah Valley Connection
We are a full service website promotion and marketing firm located in The Shenandoah Valley of Virginia. Our highly effective search engine promotion techniques will help put your web site or business in position to go head to head with even the largest competition. We provide community focused business networking online and offline. We provide a platform for networking by offering memberships to our service and through advertising strategies. We strive to bring together the best of every industry in the region and introduce them to our members and viewers through our family of web sites on a National level.
Website Design with Promotion - Shenandoah Valley Online Advertising - Internet Advertising - Shenandoah Valley Small Business Marketing - Shenandoah Valley Business Marketing Services - Shenandoah Valley Advertising - West VA Advertising - Martinsburg WV Advertising - Internet Advertising Business Networking - Search Engine Optimization - Shenandoah Valley online Business Networking and Arts Guide - Business Marketing in the Shenandoah Valley - Shenandoah Valley Online Business Marketing - Online Promotion and Marketing Services - Radio Advertising Shenandoah Valley
---
Shenandoah Valley's Best - www.ShenandoahsBest.com
ShenandoahConnection.com can help you get the word out about your
new or upcoming business venture.
By getting connected to our growing network you will have the cutting edge against the competition.
What can the Shenandoah Connection do for you? Its simple. When someone logs onto the internet to find a service or product located in the greater Shenandoah Valley what do they do?…, They go to Google.com or some other search engine, right? Shenandoah Connection has the expertise to set up your business and/or website so that your business comes up at the top page of the list. This means that the majority of internet searches for your service will be directed straight to YOUR business.
List your business with us and we SEO your website ALL for just a about a $1.00 a day
Call 540-984-8190 - Website Promotion and Business Marketing
Shenandoah Valley Advertising by ShenandoahsBest.com
Albemarle County VA - Augusta County VA - Clarke County VA - Frederick County VA - Page County VA - Rockbridge County VA - Rockingham County VA - Shenandoah County VA - Warren County VA - West Virginia
Arts and Crafts - Arts and Events - Dining in The Shenandoah Valley - Downtown 56 - Events - Golf Shenandoah Valley - Hiking - Live Music - 1st Friday's - Massage - Music Festivals - Shenandoah Valley Musicians - Shenandoah Valley Caverns - Shenandoah Valley Civil War - Shenandoah Valley Photography - Ski Shenandoah Valley - Shenandoah Valley Vineyards - Shenandoah Valley River Trips - Shenandoah Valley Theater - Things to do in The Shenandoah Valley - Virginia House Concerts - Shenandoah Vineyards - Outdoor Photography of The Shenandoah Valley
Advertising - Animal Services - Antiques - Farms of The Shenandoah Valley - Furniture Stores - Health and Vitamin Stores - Shenandoah Valley Real Estate - Travel Agents - Web Design - Shenandoah Valley Web Promotion - Shenandoah Valley Business Directory - Shenandoah Valley Photography - Gene Taylor - Shenandoah Valley Moving Services - Virginia Moving Services - Shenandoah Valley Website Design - Shenandoah Valley Web Development - Shenandoah Valley SEO Web Promotion
Free Advertising For Virginia Business
Virginia Free Classifieds - Feel FREE to use our fast and FREE Virginia Classifieds and Bulletin Boards. Post a message, start a discussion, chat... POST YOUR: Announcements - Events - For Sale - News Items, Post your music show. Start Networking with others in the Shenandoah Valley and more.
Counties of Virginia - Virginia FREE Classifieds - Virginia Government - Jobs in Virginia
Quick Facts - Bureau of the Census - U.S. Small Business Advisory - Made in Virgina
Virginia Business Networking Forum - Washington DC Business Networking
A Word About Business Networking Online
The major Search Engines are pouring tens of millions of dollars into local search. Paper-bound Yellow Pages are losing their popularity as more people have quick access to information on line. Those businesses that get it now will thrive and jump way ahead of their competition.
At VA Business Networking, our strategy is to use a combination of collective, creative marketing and search engine optimization to create powerful networking partners that support each other online and meet occasionally offline.
---
Powered by: GRASSROOTS NETWORKING
Collective Creative Marketing - Business Networking
with Search Engine Optimization

GrassRoots Business Networking is a collective marketing method for like-minded business people.
Who wish to combine business networking with the power of search engine optimization techniques.

GrassRootsNetworking.com builds online business relationships. We search for honest hearted
team players to work with. We partnership with other grassroots business organizations. About Us
---
Our Shenandoah Valley Virginia online guide to information about small business arts networking, local events in the beautiful Shenandoah Valley of Virginia and West Virginia and beyond. Shenandoah Valley Business Networking
Shenandoah Valley Jobs Help Wanted
Employment Opportunities in the Valley and Surrounding Areas
ShenandoahConnection.com | About Us | News | Testimonials | Free Classifieds | Sign Up|
Back to Home Page
Commonwealth of Virginia Employment Opportunities

Career Information with Social Security Administration
search for jobs with the Social Security Administration in PA, MD, VA, DC
West Virginia Employment Opportunities - check the State's database for jobs
Federal Emergency Management Agency - many opportunities at Mt. Weather located in Clarke County
Virginia Employment Commission - Search ALEX the on-line database for jobs posted with the VEC
Frederick County Employment Opportunities
Shenandoah County VA Employment Opportunities
Rockingham County VA Jobs
Fairfax County Job Openings
Front Royal Warren County VA Jobs
City of Manassas Employment
City of Winchester VA Employment
Job Opportunities with Staunton City
Loudoun County Job Announcements
Town of Leesburg Job Opportunities
---
Public and Private Schools, including local Colleges and Universities
Winchester Public Schools Employment Opportunities
Page County Schools - includes many listings for support staff
Loudoun County Public Schools - Loudoun is building new schools, the needs are many
Career Opportunities - Warren County Public Schools
Frederick County Public Schools
Shenandoah County Public Schools
Employment Opportunities Harrisonburg City Schools
Grafton Schools - many opportunities working with individuals with disabilities
Lord Fairfax Community College - opportunities for faculty positions as well as support staff Eastern Mennonite University - located in Harrisonburg
James Madison University - opportunities for wage, classified, and faculty positions
Bridgewater College
George Mason University Employment Opportunities - opportunities at campus in Northern Virginia
Virginia Tech - opportunities in Blacksburg and some distance learning options
---
Hospitals and other healthcare providers
Blue Ridge Hospice
Shenandoah Memorial Hospital - usually provides monthly job updates
Rockinham Memorial Hospital - link through frames to find Career Opportunities
Valley Health Systems - employment database for Winchester Medical Center and Warren Memorial
Project HOPE - administrative support opportunities located in Clarke County
Office Cleaning Jobs
Hard Surface Floor Maintenance Jobs
Carpet and Rug Cleaning Jobs - Ceramic Tile Cleaning Jobs
Window Washing Jobs
Construction Cleaning Jobs
Green Cleaning Services
Equipment/Supplies Moving
Outside Facility Cleanup
Problem Solving for all your janitorial needs
---
Local Employers with employment information
CCL Industries manufacturing in Harrisonburg
Davis Technologies
Dupont
KVK Precision Specialties
National Traffic Systems, Inc. trucking industry
RCD Electric, Inc
VF Corporation
Banta Printing - Production positions in Harrisonburg
ATCC - American Type Culture - Bioengineering in Manassas
BAE Systems
Jenzabar - Computer software production in Harrionsburg and other offices nationwide
ComSonics Inc.
Holtzman Oil Corp
Job Opportunities - National Wildlife Federation - Warehouse, customer service, and shipping positions in Winchester
Ferguson Career Opportunities - Warehouse opportunities with plumbing supply company in Front Royal
Shenandoah Tower - Build radio, microwave, cellular, and digital towers throughout the region
Bowman Consulting Career Postings
Lantz Construction
Aramark - positions available in Shenandoah National Park
Shenandoah Manufacturing - production and engineering opportunities in Harrisonburg
BB&T - bank operations expanding in the Valley
First Virginia Bank
Coors - production facility in Elkton
Zep Manufacturing - Winchester
Family Dollar - retail stores and distribution center in Front Royal
Jouan Inc.
Sun Trust Bank
National Fruit - production and support opportunities in Winchester
Ricketts Construction
Folder Factory - production and graphics opportunites in Edinburg
Trex - production, administrative, and engineering opportunities with fast-growing company
Americold Logistics - warehouse operation in Strasburg
Suiza Foods and Shenandoah Pride - major dairy product distributer nationwide
Berryville Graphics printing production work in Clarke County
Perry Judds, Inc - bindary production positions available, 12-hour shifts
Sheetz - fill out an application on-line
Dominion Power - searchable database of jobs nationwide
APAC - paving contractor
Howell Metal
Skyline Truss - production opportunities in Harrisonburg
Perry Engineering
Dunham Bush - production and engineering positions in Harrisonburg
Shenandoah Valley Regional Airport - Weyers Cave, Va.
Shenandoah Valley Airports
Wampler Foods (Pilgrim's Pride) (www.pilgrimspride.com)
---
VA Employer Services:
EMPLOYER ONLY Online Mass ClaimsFiling - File unemployment insurance claims and payments on behalf of your employees that experience either a permanent or temporary layoff. This process is for EMPLOYER USE ONLY

Post a Job or find a candidate If you have a username and password, you can use Virginia Workforce Connection to post a job or find a candidate.

File or Pay your Taxes online - I-Reg / I-File, your one stop for filing and/or paying your taxes and registering a new business.
Labor Market Information - Virginia Workforce Connection:
The Virginia Workforce Connection system is designed to provide you access to the various elements of labor market information collected and stored in Virginia's database.