Strasburg Virginia Catering,
Banquet and Wedding Services
Shenandoah Connection works with many of Shenandoah Valley wedding venues for small and large weddings and catered special events such as corporate retreats, conferences & receptions. 540-249-3209
Seasoned Gourmet impeccable service, attention to detail and careful crafting of fresh gourmet foods has helped to distinguish us from our competition and placed us at the forefront of today's culinary experience.
Whether planning a corporate event, wedding, holiday party or social occasion of any kind, We impress the most demanding clientel with extraordinary menu concepts, courteous and professional staff and a wide range of services. Our goal is to satisfy even the most discriminating palates and make any occasion memorable- beyond your expectations.
540 736-4099
Weddings - Corporate events - Special Events - Wine Tastings - Local Vineyards - Four Star
________________________________________________
Kimberly's Konfections - Gift Baskets - Catering
Shenandoah and Valley Gifts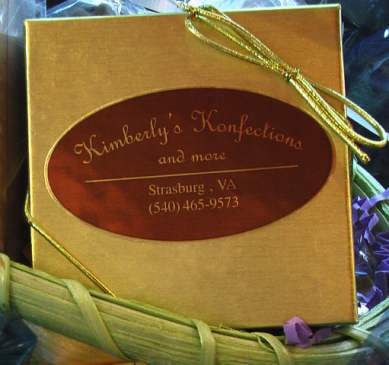 Strasburg Virginia Catering Services
We sell only top of the line front-tier of Chocolates.
We design and create for your taste and needs.
Our specialty gift baskets are filled with sweet delicacies of fine hand dipped chocolates and
delicate fruit passion to create beautiful wedding amenities and corporate gifts.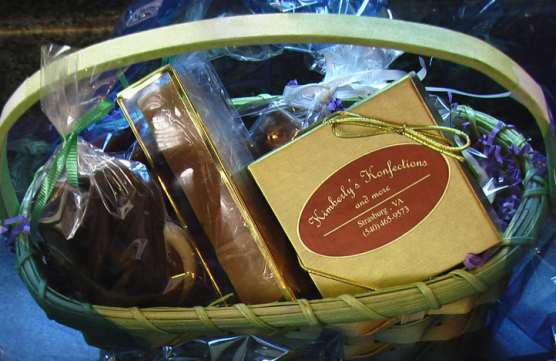 We sell Goods fine hand dipped chocolates. Goods have perfected the art of hand dipping chocolate with soft center creams and no artificial additives so they maintain the rich, creamy flavor our customers keep coming back for. Each piece of fine candy has its own unique signature on the top called a "throw" and it marks the delicious flavor on the inside.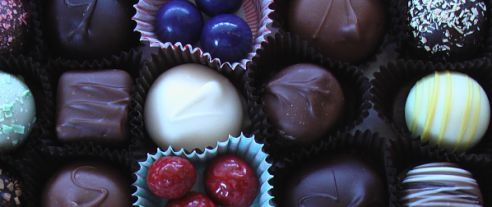 Wedding Favors - Gift Baskets - Catering of Parties and Events
for Strasburg and Middletown Virginia
---
Strasburg VA Website Design and Promotion
by ShenandoahConnection.com
We are a full service website promotion and marketing firm located in The Shenandoah Valley of Virginia. Our innovative and proven search engine optimization techniques have ranked hundreds of web pages in top positions. Whether it's website promotion, development, design or consulting, we can help get you the results you expect. About us
We just don't create and design websites we
create business networking partners - learn more
Business and Arts Networking
Advertising and Online Marketing
by ShenandoahConnection.com

Business Networking in Strasburg Virginia and Beyond
Networking Small Business and the Arts
Our Network: Best of Shenandoah Valley - Shenandoah Valley Weddings - Shenandoah Valley Music - Shenandoah Arts - Shenandoah Valley Twitter - Shenandoah Valley Web Development - Shenandoah Valley Small Business Websites - Virginia Business Networking - Business Networking by GrassRootsNetworking.com - Powered by Web Promotion by out team at WebPromotion.com
Our Objective is to foster and encourage creative partnerships
between business and the arts...
We are looking to network with Art Groups, Musicians, Cultural Art
Centers and businesses in the USA and beyond.
US Open Mic & Jams - USA Networking Musicians
USA House Concerts - USA Musicians Services
Art from The Shenandoah Valley - Shenandoah Valley Arts and Crafts - Bluegrass in The Shenandoah Valley - Business Marketing Shenandoah Valley - Chords and Lyrics - Shenandoah Valley Photography - Shenandoah Valley Weddings - Musical Instrument Dealers Shenandoah Valley - Musicians Services - Virginia Folk Musicians - Music Instruction Shenandoah Valley - Virginia Recording Studios - Shenandoah Valley Wines - Virginia Film Festival - Things to do Shenandoah Valley - Shenandoah Valley Business and Arts Sponsors - Virginia Vacations - Shenandoah Valley Hotels - Shenandoah Valley Forums - Virginia House Concerts - Shenandoah Valley Travel Questions - Harrisonburg VA Business Networking - Virginia Business Networking - Our YouTube Page - Upcoming Stars - USA Musician - Shenandoah Valley - Writers Shenandoah Valley - Worldwide Business Networking - Washington DC Blues Jams

Augusta County VA Real Estate - Basye VA Real Estate - Broadway VA Real Estate - Bryce Mt VA Real Estate - Bridgewater VA Real Estate - Commercial Real Estate Shenandoah Valley - Country Properties Virginia - DC Condos - Fairfax VA Real Estate - Harrisonburg VA Real Estate - Homes for Rent Shenandoah Valley - Homes for Sale by Owner Shenandoah Valley - Land for Sale Shenandoah Valley - Land for Sale Virgnia - Lexington VA Real Estate - Mt Jackson VA Real Estate - Moving Services - Northern Virginia Real Estate - Office Rentals Shenandoah Valley - Roanoke VA Real Estate - Rockbridge County VA Real Estate - Rural Land - Shenandoah County VA Real Estate - Shenandoah Valley Real Estate - Staunton VA Real Estate - Strasburg VA Real Estate - Virginia Real Estate Relocation - Washington DC Real Estate - Waynesboro VA Real Estate - West Virginia Real Estate - Winchester Va Commercial Property - Winchester VA Real Estate - Woodstock VA Real Estate
West Virginia Real Estate
West Virginia Real Estate - Country Properties West Virginia
Homes For Sale By Owner West VA- Land for Sale West Virginia
East Coast Real Estate - Midwest Real Estate - West Coast Real Estate
For information on advertising options, please call 540-984-8190
Link to Us | Terms of Service | About Us | Send In Feedback | Advertise With Us | Contact Us Copyright © 2006 Shenandoah Connection Inc. All rights reserved.