Accommodations - Places and Events in Virginia
Motels, Hotels, Cabins, House Rentals and B&B's and things to do and see along the Virginia Trail.
Map of Virginia - Shenandoah Valley - Virginia

Shenandoah Valley of Virginia by ShenandoahsBest.com
Our goal is to provide a platform that allows small businesses, artists, web designers and web promoters in the Shenandoah Valley to advertise directly to consumers at little to no cost.
Get a FREE listing or advertise your Shenandoah Valley Business
with us - Contact Us - 540-335-8190 - ShenandoahMusic@hotmail.com

Shenandoah Valley House Rentals - Day Spas of the Shenandoah Valley - Massanutten Vacation Rentals
Apartment Rentals Shenandoah Valley - Virginia Shenandoah Valley - Wild Wonderful WV - Hunt Country - Steeplechases - Virginia Wine Country - Virginia Skyline Drive - Blue Ridge Mountain VacationsNorthern Blue Ridge Mountains - Virginia's Shenandoah Valley Vacations - Washington DC Weekend Getaway - - Harpers Ferry West Virginia
Things to do in the Shenandoah Valley of Virginia
Art Groups - Bowling - Bluegrass in Virginia - Caverns - Coffee Houses - First Fridays - Golf Virginia- Hunting Shenandoah - Horseback Riding - House Concerts - Live Music - Musicians - Recreation - Shenandoah Caverns - Shenandoah River Trips - Virginia Hot Air Balloon Rides - Ski Shenandoah Valley - Skyline Drive Virginia - Shenandoah National Park - Shenandoah County - Things to Do Shenandoah Valley - Bryce Mt VA -Shenandoah Valley County Fairs - Massage Therapists in Virginia - Shenandoah Valley Weddings - Virginia Department of Game & Inland Fisheries - Virginia Wines, Vineyards and Wineries
---
Massanutten Mountain House Rentals
Beautiful scenery is everywhere on Massanutten Mountain

Albemarle County VA - Augusta County VA - Clarke County VA - Frederick County VA - Page County VA - Rockbridge County VA - Rockingham County VA - Shenandoah County VA - Warren County VA - West Virginia
Woodstock VA Cabin Rentals
Enjoy a fantastic view of the mountains while your children swim or use the
large gas BBQ as you watch the deer. Shenandoah River Cabin Vacation Rental
---
Dining in The Shenandoah Valley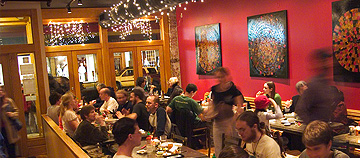 The most popular approach to finding good restaurants is Word of Mouth.
We all tend to eat at restaurants that people we know recommend to us.
Shenandoah's Best is building a dining list of restaurants with reviews. You can read or write a review about particular restaurant in The Shenandoah Valley. Restaurant Reviews in Shenandoah Valley

ShenandoahsBest.com: We are more then just a online guide for the Shenandoah Valley of Virginia and the surrounding areas. We are a business and arts resource that brings you the BEST of the arts, things to do, places to stay and a business directory as well. We are committed to be an ever growing list of GREAT things to do and see in Virginia's Shenandoah Valley.
Dining Harrisonburg VA - Dining Lexington VA - Dining Staunton VA - Dining Winchester VA
Wine Tastings Shenandoah Valley - Shenandoah Valley Weddings
Shenandoah Valley Online Marketing
---

ShenandoahWeddings.org We work with the best and most creative, wedding photographers, wedding ceremony locations, honeymoon planning links, wedding caterers, disc jockeys, wedding flowers, wedding consultants, limousine services, bridal shops, tuxedo rental stores, gift registry, live music and wedding bands, reception sites and venues, and more...
Winchester VA Wedding Photographer - Fine Portrait Photographer Winchester VA
Shenandoah Valley Wedding Reception Sites - Shenandoah Valley DJ's - Shenandoah Valley Musicians - Shenandoah Valley Photographers - Shenandoah Valley Wedding Cake Bakers - Shenandoah Valley Florists - Shenandoah Valley Wedding Dresses - Shenandoah Valley Catering - Shenandoah Valley Vineyards - Virginia Country Hams - Shenandoah Valley Wedding Photographers - Harrisonburg VA Weddings

ShenandoahWedding.org is expanding their "Weddings Business Network" from the Shenandoah Valley to the State of Virginia
and Washington DC Metro with our pages on VABusinessNetworking.com - Virginia Wedding Business Networking
and MetroWashingtonHomes.com - Washington DC Wedding Business Network
---
BUY SELL & TRADE IN VIRGINIA
Feel FREE to use our fast and FREE Virginia Classifieds and Bulletin Boards. Post a message, start a discussion, chat... POST YOUR: Announcements - Events - For Sale - News Items, Post your music show. Start Networking with others in the Shenandoah Valley and more. Read Guidelines - Our Free Message Boards - Virginia Trade Or Give Away Classifieds
POST HERE NOW <<<
---
Winchester Virginia's History
A markerplace for over 250 years, Winchester cherishes its heritage. You'll find a wealth of history in Old Town Winchester, all tucked into about ten square blocks of downtown and just waiting to rediscovered. One a Shawnee campground, the area was settled by Pennsylvania Quakers in 1732. Winchester, the first city west of the Blue Ridge Mountians, was officially founded in 1744 by Colonel James Wood, who laid it out and name it after his birthplace in England. George Washington, a surveyor for Thomas, Lord Fairfax, had an office in Winchester from 1755-56 and elected to his first political office in the House of Burgesses by the people of Winchester and Fredrick County. During the Civil War Winchester changed hands more than 70 times and five battles were fought in and around the area. - Winchester VA Business Directory
---
It's all about getting Virginia Businesses Networking - Thinking outside the box? Then call anytime at 703-722-6012
VABusinessNetworking.com is leading the way for Virginia Business to take advantage of online business net- working. We are looking to support and work with Speed Networknig Meetings. We provide powerful online search engine marketing tools that generate results for your business in Virginia and beyond.
We help build and support online business communities. We partnership with other business organizations. We don't need sophisticated technology and infrastructure to build our online communities, we just seek and find honest hearted team players to work with. Virginia Business Networking Forum

Counties of Virginia - Virginia FREE Classifieds - Virginia Government - Jobs in Virginia
Quick Facts - Bureau of the Census - U.S. Small Business Advisory - Made in Virgina
Virginia Business Networking Forum - Washington DC Business Networking
---
If you have any ideas, comments, suggestions or would like to work on a project with
us please do not hesitate to call 540-984-8190
Shenandoah Valley Virginia online guide to information about small business arts networking, local events in the beautiful Shenandoah Valley of Virginia and West Virginia and beyond. Shenandoah Valley of Virginia Business - Website Promotion by Shenandoah Connection
Come to Virginia and take a vacation soon!
Call us at 540-335-8190
ShenandoahConnection.com | About Us | News | Testimonials | Free Classifieds | Sign Up|
Back to Home Page