Hearing Testing and Diagnosis Shenandoah Valley

Audiology Associates of Harrisonburg VA
590 Neff Avenue Suite 5000 Harrisonburg Virginia - Hearing Testing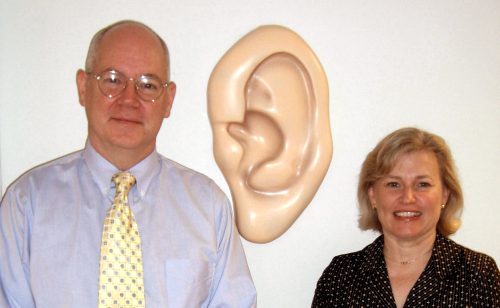 540-574-HEAR [4327]
Dr. Diane Schwalbach and Scott Murray M.Ed., specialize in the diagnosis and
treatment of hearing loss and it's associated disorders.
Audiology Associates of Harrisonburg work with individuals of all ages and identify those with the symptoms of hearing loss and other auditory, balance, and related disorders of the ear. Hearing disorders can result from a variety of causes including trauma at birth, viral infections, genetic disorders, exposure to loud noise, certain medications, or aging. Treatment may include examining and cleaning the ear canal, fitting and dispensing hearing aids, and auditory rehabilitation. Audiologic treatment also includes counseling on adjusting to hearing loss, training on the use of hearing instruments, and teaching communication strategies for use in a variety of environments. For example, they may provide instruction in listening strategies when in crowded or noisy situations, such as in restaurants or at family gatherings.

Call for an appointment today and see how we easy it is to regain a wonderful quality of life.

Diane Schwalbach and Scott Murray assess the nature and extent of the hearing disorders and then provide a plan to help the individual manage their specific disorder. Using audiometers, computers, and other testing devices, they measure the loudness at which a person begins to hear sounds, the ability to distinguish between sounds, and the impact of hearing loss on an individual's daily life. In addition, their audiologists use computer equipment to program digital hearing aid to fit the patient's exact hearing loss. Digital technology today has elevated hearing aid technology from barely adequate devices to state of the art personal hearing systems that quiet background noise and actually return a sense of normalcy to the hearing impaired.
The successful fitting of hearing aids not only depends on the latest technologies available, but also on the expertise of the audiologists utilizing the technology. The hearing professionals of Audiology Associates of Harrisonburg are setting a new standard for hearing care in the Shenandoah Valley.
Audiology Professionals in Harrisonburg VA
Diagnosis Treatment Hearing Loss Harrisonburg VA
Hearing Aids Harrisonburg VA - Hearing Test Harrisonburg VA
---
Scott Murray Harrisonburg VA Singer Songwriter
Scott Christopher Murray is an accomplished singer/songwriter and a veteran of the acoustic music scene. Raised in the heart of the Shenandoah Valley of Virginia, Scott grew up absorbing its rich story-telling tradition and Appalachian music legacy.

Scott moved to Nashville in the early 1990's. While there, he opened for Emmylou Harris, Bruan Bowers, Goose Creek Symphony and Suzy Bogguss. He also shared the state with Willie Nelson, Lyle Lovett, Shelby Lynn, Mary Chapin Carpenter, Kathy Mattea and Henry Gross. Scott Murray was named Grand Prize winner at the Gumtree Folk Festival, and was a regular performer at Townes Van Zandt's bar in Nashville. more info

Shenandoah Valley House Concerts Have us help you put on a show at your home or office! email: ShenandoahMusic@hotmail.com - What is a house concert? A house concert is a chance to experience music by local musicians in a warm and intimate environment. It's when someone opens up their home and invites you into their living room to share in a performance by a few of our talented musicians.
---
Shenandoah Valley Business Advertising by ShenandaohsBest.com
Albemarle County VA - Augusta County VA - Clarke County VA - Frederick County VA - Page County VA - Rockbridge County VA - Rockingham County VA - Shenandoah County VA - Warren County VA - West Virginia
Harrisonburg VA Web Design - Harrisonburg VA Online Marketing
---
Networking Virginia Business by VABusinessNetworking.com
Social Business Networking in VA - Smart Relationship Marketing - Virginia Online Promotion
We are about getting Virginia Businesses Networking with the RIGHT people.
About Us - Online Marketing - Virginia Business Directory - VA Business Forum - Virginia Employment
VA Web Design - VA Online Marketing - Virginia FREE Classifieds
We have many clients that have paid thousands of dollars to unscrupulous SEO companies that have promised search engine ranking that they cannot deliver for themselves no less anyone else. We are Powered by www.WebPromotion.com
"Top 10 search engine rankings happen only with ongoing efforts or strategies." So lets get to work!
Call for more for info on how you can get involved - 703-722-6012
Powered by www.WebPromotion.com - Contact Us

Counties of Virginia - Virginia FREE Classifieds - Virginia Government - Jobs in Virginia
Quick Facts - Bureau of the Census - U.S. Small Business Advisory - Made in Virgina
Harrisonburg VA Business Consultant - Shenandoah Valley Marketing Coach -
Virginia Business Marketing Seminars - Virginia Business Consultants
Washington DC Business Networking
---
It's NOT about the technology! - Human Generosity and
Participation is the key to make things happen.
Business Networking by GrassRoots Networking
Terms of Service | About Us | Send In Feedback | Advertise With Us | Contact Us Copyright © 2012 Shenandoah Connection . All rights reserved. Web Design & Marketing - Web Promotion by Mark Barreres