---
Planning a great vacation or honeymoon? Shenandoah Valley Travel Services
Margaret A Gochenour at Alpha Voyages Inc
Shenandoah Valley Sandals Travel Agent
Call 540-331-3772
There are ten tropical resorts on the enchanted isles of Jamaica, Antigua, St. Lucia and The Bahamas, created exclusively for two people in love and under one name - Sandals. It's the world's best all-inclusive resorts. - The Sandals Concept - Resorts - Honeymoons - Spa Collection - Brochure - Special Offers
Shenandoah Valley Sandals Travel Agent
---
World Travel - Come Traveling With US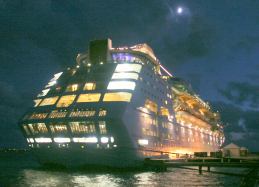 Affordable Luxury Travel Vacations - Exotic Beaches -
Cruise the Caribbean - Travel Europe

Great Destinations at an unbeatable Price. Come Travel with us to California, Colorado, Portugal, Aruba, Belize, Europe and Cruise to the Carribean, Alaska or Hawaii.

Exclusive Vacations - Luxury Vacations - Trips to Exotic Places - Worldwide Travel - Affordable Luxury Travel - Tropical Vacations - www.cometravelingwithus.com
---
Shenandoah Valley Travel - Shenandoah Valley Vacations
Throughout its long history, the Shenandoah Valley has been revered as one of the most bountiful and beautiful regions of North America, bounded by lovely mountain ranges and nourished by the Shenandoah River.
The name Shenandoah is believed derived from that of an Indian tribe, the Senedos, of Shawnee-Algonquian extraction. They lived in beautiful bottomland called "Meems Bottoms" between Smith Creek and the North Fork of the Shenandoah River, just north of present-day New Market. Varying translations of the word Shenandoah also confirm "daughter of the stars" as encompassed in its meaning.
.
Check out our great selection of home, cottage, cabin and Chalet Rentals in the Shenandoah Valley Area offered by their owner. Choose from The Blue Ridge and Allegheny Mountains merge in the spectacular Shenandoah Valley. Here, guests of Virginia vacation rentals and cabins can enjoy hiking, horseback riding, fishing, swimming, cycling, skiing and other outdoor pursuits. Drive the scenic Skyline Drive through the Shenandoah Valley, or visit ShenandoahNational Park with its 500 miles of hiking trails, 30 trout streams, great bird watching, horseback riding and other outdoor pleasures. Luray VA Cabin Rentals, Mount Jackson, New Castle, Harrisonburg, Basye, Warm Springs, Lexington,and Massanutten vacation rental properties available. Amenities vary with each property. - Things to do in the Massanutten Mountains
Tourist Infomation for The Shenandoah Valley
Accommodations - Entertainment Dining and more
Albemarle County VA - Augusta County VA - Clarke County VA - Frederick County VA - Page County VA - Rockbridge County VA - Rockingham County VA - Shenandoah County VA - Warren County VA - West Virginia Shenandoah Valley Travel - Shenandoah Valley Advertising - Shenandoah Valley Arts

Arts and Music - Entertainment & Things to do and see - Places to Stay - Fine Dining - Valley Vineyards - Shenandoah River Trips - Shenandoah Valley Caverns - Skiing - Shenandoah National Park- Golfing- Edinburg Concert Series - Shenandoah Valley Antiques - Blue Ridge Music & Art Trail - Civil War - I81 Travel
---
Hamptons Long Island House Rentals
What to do? There are so many things to do in the Hamptons and on the East End of Long Island that it's hard to list just a few without feeling like I left something important out. You've got the Long Island Beaches that you can stroll through one of the adorable villages of Westhampton Beach, Southampton, Easthampton, Bridgehampton, Sag Harbor, or Amagansett. Take the ferry to Shelter Island. Museums, Galleries, Antique Shops, and Vineyards.
---
Atlanta Georgia - Carolina Mountains - Chicago
Grand Marais Minnesota - Lake George New York
ShenandoahConnection.com | About Us | News | Testimonials | Free Classifieds | Sign Up|

Back to Home Page