The website that is helping to change the way
people think about the Internet in The Shenandoah Valley and beyond.
It's all about networking... www.ShenandoahConnection.com

Art Groups - A Way 2 Play - Bowling -Bluegrass in Virginia - Caverns - Coffee Houses - First Fridays - Golf Shenandoah - Hunting Shenandoah - Horseback Riding - House Concerts - Live Music - Musicians - Recreation - Shenandoah Caverns - Shenandoah River Trips - Ski Shenandoah Valley - Skyline Drive Virginia - Shenandoah National Park - Shenandoah County - Strasburg Theater - Things to Do Shenandoah Valley - Valley Ballooning - Shenandoah Valley Photography - Shenandoah Valley Arts and Music Events - 1st Friday at The Art Group - Shenandoah Valley Music Festivals - Shenandoah Valley Vineyards - Shenandoah National Park - Shenandoah River Trips - Hot Air Ballooning - Golf Shenandoah Valley - Ski Shenandoah Valley - Shenandoah Valley Weddings
Massage Therapists in The Shenandoah Valley
Massage not only feels good, it's good for your health!
Often times people are stressed from everyday life in our culture. Stress-related disorders make up between 80-and-90 percent of the ailments that bring people to family-practice physicians. Massage reduces heart rate, lowers blood pressure, increases blood circulation and lymph flow, relaxes muscles, improves range of motion, and increases endorphins (enhancing medical treatment). It also stimulates weak, inactive muscles which help compensate for the lack of exercise and inactivity resulting from illness or injury. It also quicken recovery from exercise or injury. more info
---
ShenandoahMusic.Com
The Shenandoah Valley's Arts and Business Network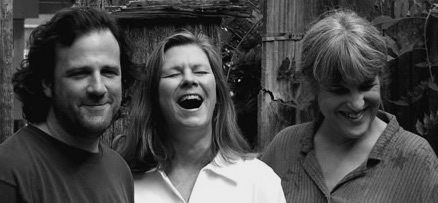 Jazz, Folk, Blues, Bluegrass, Rock, Swing and more.
ShenandoahMusic.coms' growing list of network musicians will perform at your home, office, weddings, anniversaries or festivals. more info
Bluegrass in The Shenandoah Valley
Featuring local and regional bluegrass artists with the intent is to bring together the richly talented local music community. The ShenandoahMusic.com Bluegrass network was mission is to bring the music to a broader audience of fans will be able to access the bluegrass community, and appreciate it's talent. more info
Bluegrass in Virginia - Chords and Lyrics - Dining Out Shenandoah Valley - Guitars and Amps - Guitar Lessons - House Concerts - Music Lessons - Music Stores - Musicians for Hire - Shenandoah Valley Arts - Shenandoah Valley Piano Dealers - Shenandoah Valley Business Networking - Shenandoah Valley Photography- Shenandoah Valley Advertising - Shenandoah Valley Weddings - Shenandoah Valley Calendar of Events - Shenandoah Rock - Shenandoah Folk - VA Business Networking - Shenandoah Valley Recording Studios
---
Step back in time. Enjoy an evening of Duck Pin Bowling at Shenandoah
Bowling Lanes in Mt Jaskson Virginia - Since 1948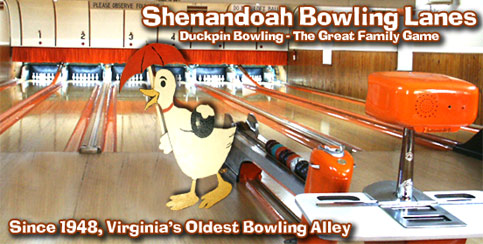 League Bowling: Monday, Tuesday, and Thursday Nights
Open play: Friday and Saturday nights and sunday afternoons
Hours Monday, Tuesday, Thursday, and Friday 7:00pm - 11:00pm
Saturday 5pm - 11pm Sunday 1pm - 6pm
Phone 540-477-2341
---
Shenandoah Valley Online
Business and Arts Networking Guide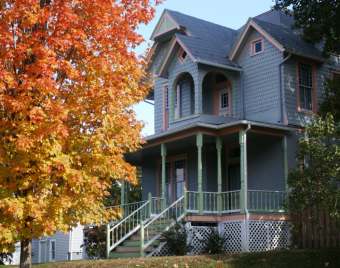 Small Business and Arts Networking - Tourism - Shenandoah Valley Business Advertising and Online Marketing - Business Networking and Marketing

by Shenandoah Valley's Web Connection
www.ShenandoahConnection.com
Our Vision is to change the way people think about the internet in the Shenandoah Valley. We provide community focused networking to the Shenandoah Valley business community both online and offline. We provide a platform for networking by offering memberships to our service and through advertising strategies. We strive to bring together the best of every industry in the region and introduce them to our members and viewers through our family of web sites. Learn More
Member of the Rocktown Referral Group
Shenandoah Connection featured in West Virginia Executive Magazine. Read Here
---
The Shenandoah Connection Network
Networking Business and the arts in Virginia and Beyond!
Call 540-984-8190
Shenandoah Connection has developed strategies that have enabled clients to get a much higher position on the major search engines than their competitors. Our strategies are based on 10 years of experience in marketing business online. We spend a lot of time with our clients discussing and reviewing the competition and understanding the local and regional markets. We conduct a business analysis and develop unique selling points for the business. We enable our clients to achieve greater success with relatively lower marketing budgets in highly competitive markets. more info
Shenandaoh Valley Virginia Business Directory
Albemarle County VA - Augusta County VA - Clarke County VA - Frederick County VA - Page County VA - Rockbridge County VA - Rockingham County VA - Shenandoah County VA - Warren County VA - West Virginia Shenandoah Valley Travel - Shenandoah Valley Advertising - Shenandoah Valley Arts - Shenandoah Valley Business Advertising - Shenandoah Valley Business Marketing - Shenandoah Valley Business Networking - Shenandoah Valley Website Promotion and Marketing - Shenandoah Valley Search Optimization - Cooperative Marketing
The Shenandoah Connection Network
Networking The Shenandoah Valley and Beyond!
Virginia Search Optimization company
Getting a professional website geared toward your target audience is
what the The ShenandoahConnection can do for you! Our desire it to help businesses
and individual clients establish or maintain a professional presence on the World Wide Web. Website Design with Promotion
Business Marketing in the Shenandoah Valley
Product marketing - website design and hosting for Shenandoah Valley Business - Shenandoah Valley Online Business Networking and Arts Magazine - Internet Advertising Business Networking - Search Engine Optimization
Shenandoah Valley online Business Networking and Arts Guide - Shenandoah Valley Online Business Marketing
Online Promotion and Marketing Services - Radio Advertising Shenandoah Valley - Shenandoah Valley Business Networking - Shenandoah Valley Advertising - Shenandoah Valley Business Networking Directory
Shenandoah Valley Search Optimization company
How Will People Find Your Website?
First Page Search Engine Optimization
If you have any ideas, comments, suggestions or would like to work on a project with
us please do not hesitate to call 540-984-8190
Business and Arts Networking USA
Shenandoah Valley Virginia online guide to information about small business arts networking, local events in the beautiful Shenandoah Valley of Virginia and West Virginia and beyond. Shenandoah Valley Business - Website Promotion by Shenandoah Connection