---
Front Royal-Warren County real estate sales and deals, Shenandoah Valley homes for sale, and relocation help. Get the best real estate listings & homes for sale, expert advice, local info, and much more from our agents for Front Royal VA, Linden VA, Warren County, Virginia, real estate and homes for sale and nearby areas.

Our goal as a real estate company is to reach out to our community as well as newcomers and to support them in buying or selling residential, commercial, land or investment properties in Warren County VA VA. We want to be a part of the growth that is currently sweeping this region. Inspired by the real estate market as it changes, intrigued by new trends, new laws; each experience bringing more wisdom and experience to the table. -

MPR lives by the traditional value of customer service while embracing the ever-changing world of technology.
We are located in Old Town Winchester. Literally, we are in the heart of where it's all happening.
Delivering you the personal attention you deserve with the information and marketing you require, now. -
Market Place REALTY
302 South Braddock Street
Winchester, VA 22601

540.450.2747 phone
540.450.2761 fax
Virginia Real Estate - Shenandoah County VA Real Estate
Bryce Mt VA Real Estate - Edinburg VA Real Estate - Mount Jackson VA Real Estate
New Market VA Real Estate - Strasburg VA Real Estate - Woodstock VA Real Estate
Woodstock Virginia Real Estate - Shenandoah Valley Real Estate Deals - Metro Washington Homes
Virginia Real Estate - Shenandoah Valley Real Estate Deals - Northern Virginia Real Estate
Washington DC Metro Homes
___________________________________________________________________
Mover Dudes has moved thousands of people. We move doctors, attorneys, professional athletes, businesses, churches, families, friends, and everyone in between. Jon's and the other Mover Dudes' commitment to customer service and professionalism has never ceased, and it shows with every move.
Mover Dudes has locations in Winchester, VA, Leesburg, VA, and Charlottesville, VA, but that is not the only area we service. We will help you move anywhere you need to go. Our inter-state division provides long distance moves across the country.
Warren County VA Moving Service - Front Royal VA Movers
Shenandoah County VA Movers - Martinsburg WV Movers
Member of International Movers Website My Movers List
---
Front Royal Real Estate Agents
---
Shenandoah Valley's online guide to small business, arts, non-profits, and local events in the
beautiful Shenandoah Valley of Virginia.
Front Royal Warren County Virginia Online
Small Business - Tourism - Arts & Music - Advertising
by ShenandoahConnection.com

Town of Front Royal Offices
Business Office 540-635-7799
Town Manager 540-635-8007
Electrical Department 540-635-3027
Finance Department 540-635-3072
Human Resources 540-635-3929
Planning Department 540-635-4236
Public Works & Utilities Department 540-635-7819
Police Department 540-635-2111
Engineering Department 540-635-9127
FRAT Bus Service 877-777-2708
For Virginia Real Estate in the Shenandoah Valley and Blue Ridge, Land Brokers Real estate in Rappahannock County, Warren County and Shenandoah County, Virginia. Country property in Washington, Virginia, and Warren County VA.
Chris Laurence, experienced RE/MAX
403 East Main Street, Front Royal
(540) 671-1367

Craig Alexander
824 John Marshall Highway, Front Royal (540) 671-6082

Brown Rutherford
1220 North Royal Avenue Front Royal, VA 22630.
Office: 540-636-6121. Toll Free: 800-551-7284 ...
1220 North Royal Avenue, Front Royal
(540) 636-6121

Sam Snead Realty Inc
437 S Royal Ave # A, Front Royal
(540) 635-9808

Campbell Realty
408 South Royal Avenue, Front Royal
(540) 636-2971

B K Haynes Corporation
501 South Royal Avenue, Front Royal
(540) 635-7135

Weichert Realtors® in ...
824 John Marshall Highway, Front Royal
(540) 974-2554
Front Royal VA Schools
The mission of Warren County Public Schools is to provide a quality educational opportunity for every student to achieve their highest academic learning potential, develop positive core values reflective of our community, and enter higher education and or the workforce.
We will strive to deliver an educational program respected statewide through the commitment and expertise of qualified school administrators, teachers, and school staff.
We will provide required instructional resources and current technology.
We will seek to achieve this mission through community support, active parental involvement, and business partnerships.

A. S. Rhodes Elementary School - E. W. Morrison Elementary School - Hilda J. Barbour Elementary School
Leslie Fox Keyser Elementary School - Ressie Jeffries Elementary School - Warren County Middle School
Skyline High School - Warren County High School - Blue Ridge Technical Center
Mountain Vista Governor's School
Front Royal Links to Local, Regional,
Warren County Virgina
The Economic Development Authority, Warren County Virginia, EDA ...
Front Royal~Warren County Economic Development Authority PO Box 445 . 400 D
Kendrick Lane Front Royal . Virginia 22630 540.635.2182 F: 540.635.1853
Front Royal Virginia - Warren County Online - Small Business Arts Networking
Warren County, Virginia - Front Royal-Warren County Airport
United Way Front Royal Warren County
---
Front Royal VA Computer Technology
Computer Hardware Upgrades Front Royal VA - Computer Technical Support Front Royal VA - Data Disaster Recovery Front Royal VA - Data Recovery Services Front Royal VA - Helpdesk Solutions Front Royal VA - Virus Removal Front Royal VA - In Home Computer Services Front Royal VA - Data Backup Front Royal VA - Online Data Storage Front Royal VA - Online Technical Support Front Royal VA - Onsite Computer Repair Front Royal VA - Onsite Computer Services Front Royal VA - Spyware Removal Front Royal VA - Remote Computer Support Front Royal VA - Remote Management Front Royal VA - Remote PC Support and training Front Royal VA
Shenandoah Valley Computer Services
Today, competition is fiercer than ever. Small business owners have to keep costs down while generating positive cash flow in order to sustain their operations. Many owners understand that some form of workaround needs to occur in order to survive. Only by working together we can increase productivity and cost savings for our businesses and stay competitive in the market place.
Business IT Support Shenandoah Valley - Business technology Shenandoah Valley - Network Support Services Shenandoah Valley - Remote Support Services Shenandoah Valley - Remote Security Services Shenandoah Valley - Managed Business Services Shenandoah Valley - Computer outsourcing Support Shenandoah Valley - Technical support and Help Desk services Shenandoah Valley - Online Backup Software Service Shenandoah Valley - Shenandoah Valley Wireless Services
In addition to providing easy access to web pages and services in The Shenandoah Valley, Google has set up this special feature to help you find exactly what you're looking for with a click of the mouse. List Your Business with us!
Shenandoah Valley Burglar Alarm Systems - Clarke Co VA Alarms -
Harrisonburg VA Alarm Company - Page County VA Alarms -
Winchester VA Alarms Systems
---
The Shenandoah Connection Network
Networking Business and the arts in Virginia and Beyond!
Shenandoah Valley Advertising - Front Royal VA Advertising
VA Business Networking
Call 540-984-8190
Shenandoah Connection has developed strategies that have enabled clients to get a much higher position on the major search engines than their competitors. Our strategies are based on 10 years of experience in marketing business online. We spend a lot of time with our clients discussing and reviewing the competition and understanding the local and regional markets. We conduct a business analysis and develop unique selling points for the business. We enable our clients to achieve greater success with relatively lower marketing budgets in highly competitive markets. more info
We're a fairly new company online, almost a year old. You have taken our search rankings to new levels in only a matter of weeks. We are a rapidly growing company that has 100's of satisfied returning customers, but it has been hard to promote that, and internet marketing takes time. However, with the help of Mark Barreres's assistance, we are now getting much higher recognition on the web. Not only that, but Mark has a winning attitude that is simply there to help promote growing businesses. It's nice to find someone who seems to genuinely care about the growth and preservation of small businesses in America. - Kudos and many thanks to you, Mark!
Troy Lucas - Owner
Lucas Roasting Company, LLC
---
Shenandoah Valley Arts - Shenandoah Valley Music - Front Royal Business Networking
Front Royal VA Web Design - Front Royal VA Online Marketing

The harp is one of the most ancient of musical
instruments and one of the easiest to play.
Meet John Kovac
from Front Royal Virginia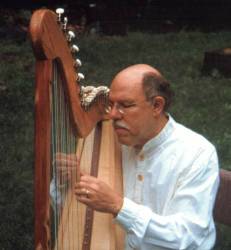 John Kovac Harp Maker and Player - Watch John Play
I share my enthusiasm for the instrument by offering my recordings as well as a number of my books, videos and kits that have introduced hundreds to the pleasure of the harp.
My book Harpmaking Made Simple, my videos, and my folk harp kits have introduced musicians and non-musicians alike to the joys of playing the folk harp. I hope I can do the same for you. more info
Use these FREE forums >>> Art Councils and Artists Forum
Musicians Looking for Musicians - ShenValley Google Artists Group -
Shenandoah Valley FREE Classifieds - GrassRoots Networking
Thinking outside the box? Call ShenandoahConnection.com
with ideas on Networking Business and The Arts at: 540-984-8190
"I use my ability to get pages up on the search engines to attract honest hearted
people to work with," - Mark Barreres
Best of The Shenandoah Valley - Bluegrass in Virginia - Chords and Lyrics - Dining Out Shenandoah Valley - Guitars and Amps - Guitar Lessons - House Concerts - Live Music Woodstock - Music Lessons - Music Stores - Musicians for Hire - Shenandoah Valley Piano Dealers - Rock Band T Shirts - Shenandoah Valley Business Networking - Shenandoah Valley Photography- Shenandoah Valley Weddings - Shenandoah Valley Calendar of Events - Shenandoah Rock - Shenandoah Folk - VA Business Networking - Virginia Recording Studios
Our suggestion is for artists to start advertising outside the box!
---
Shenandoah National Park lies astride a beautiful section of the Blue Ridge Mountains, which form the eastern rampart of the Appalachian Mountains between Pennsylvania and Georgia. The Shenandoah River flows through the valley to the west, with Massanutten Mountain, 40 miles long, standing between the river's north and south forks.
http://www.nps.gov/shen/
Civil War Traveler in Virginia's ValleyCivil War Battlefields & Sites in the Shenandoah Valley and Mountains of Virginia. ...
Key to that idea is U.S. Route 11, which generally follows the path of the old Valley Pike. This will take you "up" the Valley — north to south. You also may want to explore two other corridors full of scenic beauty as well as interpreted Civil War sites. Tours are outlined here along Route 250 and Route 340. www.shenandoahconnection.com/civilwar.htm
Winchester and Frederick County
Regional Sites:
Lord Fairfax Community College, Middletown, VA
Shenandoah University, Winchester, VA
For information on advertising options, please call 540-984-8190
---
Front Royal VA Website Design with Promotion
Shenandoah Connection Network
Networking The Shenandoah Valley and Beyond!
Virginia Search Optimization company
Albemarle County VA - Augusta County VA - Clarke County VA - Frederick County VA - Page County VA - Rockbridge County VA - Rockingham County VA - Shenandoah County VA - Warren County VA - West Virginia Shenandoah Valley Travel - Shenandoah Valley Advertising - Shenandoah Valley Arts - Shenandoah Valley Business Advertising - Shenandoah Valley Business Marketing - Shenandoah Valley Business Networking - Shenandoah Valley Website Promotion and Marketing - Shenandoah Valley Search Optimization - Cooperative Marketing
Getting a professional website geared toward your target audience is what the The ShenandoahConnection can do for you! Our desire it to help businesses and individual clients establish or maintain a professional presence on the World Wide Web. Website Design with Promotion
Business Marketing in the Shenandoah Valley
If you have any ideas, comments, suggestions or would like to work on a project with
us please do not hesitate to call 540-984-8190
Business and Arts Networking USA
Shenandoah Valley Virginia online guide to information about small business arts networking, local events in the beautiful Shenandoah Valley of Virginia and West Virginia and beyond. Shenandoah Valley of Virginia - Website Promotion by Shenandoah Connection
ShenandoahConnection.com | About Us | News | Testimonials | Free Classifieds | Sign Up|
Back to Home Page