---
When visiting beautiful Shenandoah Valley, take a side trip down the old valley pike (Us11) into Shenandoah County. Visit quaint towns, caverns, civil war battlefields, museums, wineries, and antique shops. Explore scenic byways! Hike a trail on the Massanutten, golf on championship courses, ski on one of Virginia's four ski slopes, fish on the Shenandoah River, or just have fun! - List your Strasburg VA business or service with us MORE INFO
Town of Strasburg - P.O. Box 351 - Strasburg, VA 22657 - Town Hall: 540-465-9197

VABusinessNetworking.com - Our mission: 1.To provide VA Businesses with the tools and strategic local networking alliances to increase their profit and leverage their marketing. 2. Help even the playing field when competing against large national franchises. Events
---
Accommodations in the Shenandoah Valley

---
Strasburg Virginia Real Estate Agents
Bryce Mt VA Real Estate - Edinburg VA Real Estate - Mount Jackson VA Real Estate
New Market VA Real Estate - Strasburg VA Real Estate - Woodstock VA Real Estate
Shenandoah County VA Commercial Real Estate - VA Real Estate - WV Real Estate
Shenandoah Valley Alarm Systems - Shenandoah Valley Home Loans - Shenandoah Valley Home Builders - For Sale by Owner - Homes for Rent - Virginia Title Insurance - Virginia Relocation - Shenandoah Valley Real Estate - Shenandoah Valley Contractors - Shenandoah Valley Movers - Long Distance Moving Companies - Stay in Woodstock VA - Woodstock VA House Rentals - Virginia Relocation - Virginia Title Company
---
Strasburg VA Website Design with Promotion - Shenandoah County VA Business Networking
The Strasburg VA Shenandoah Connection Network
Networking Business and the arts in Virginia and Beyond!
The Great Strasburg Antique Emporium
160 N. Massanutten St. - Strasburg, VA 22657
540-465-3711
Shenandoah Connection has developed strategies that have enabled clients to get a much higher position on the major search engines than their competitors. Our strategies are based on 10 years of experience in marketing business online. We spend a lot of time with our clients discussing and reviewing the competition and understanding the local and regional markets. We conduct a business analysis and develop unique selling points for the business. We enable our clients to achieve greater success with relatively lower marketing budgets.
Strasburg VA Web Design and Online Promotion
Our services include: New Site Creation - Old Site Redesign - Domain Name Search and Registration - Search Engine Optimization - Ecommerce Solutions at Affordable Pricing - Weekly or Monthly Maintenance - Free Phone Support - Online Marketing Solutions - Several Hosting Packages - Custom Built Sites - Detailed Statistics and Friendly Always here for you service.

Advertise Shenandoah Valley Business - Business Networking - Domain Names - Hosting Plans - Espaņol - Embroidered Emblems Patches - FREE Classifieds Shenandoah Valley - Grassroots Marketing - Gifts, Promotional Products - Pop Marketing Design - Promotional Products - Printed Tee Shirts - Radio Advertising - Search Engine Optimization Marketing - Signs and Graphics - Shenandoah Valley Best - Shenandoah Valley Business Marketing - Virginia Business Networking - Virginia Classifieds - Voice Overs - Shenandoah Web Hosting - Web Promotion - Shenandoah Valley Web Site Design - Web Design Development
Shenandaoh Valley Virginia and West Virginia
Business Networking Directory
---
Community Supported Music in the Shenandoah Valley
CSM puts dollars in the pockets of local musicians, enhances local communities and contributes to a good vibe!
In order for CSM to work we need to build an expanding membership of musicians and music venues that really want to take part in this GrassRoots effort to promote local musicians...
Shenandoah Valley Musicians - VA Musicians Forum
Shenandoah Valley Events
Cristina's Coffee Shop and Cafe - 219 W. King Street
Strasburg, VA 22657 - (540) 465-2311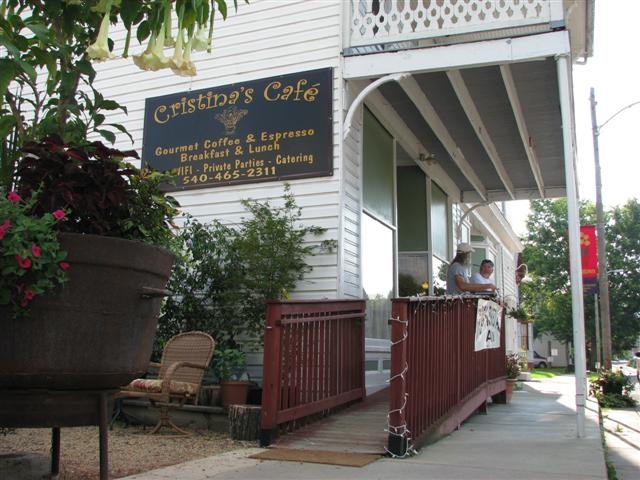 Cristina's Cafe - 219 W. King Street - Strasburg, VA 22657 - (540) 465-2311
Open Mic Jam Every Sunday Night
___________________________________________________________________________________
Live Music Shenandoah Valley
Live Music Shenandoah Valley - The Shenandoah Valley of Virginia is a well-known vacation destination with its beautiful Mountains and historic landmarks. A lesser known fact about the Shenandoah Valley - it is home to a number of talented musicians. From folk to Bluegrass, Blues and Jazz there's something for everyone. Come to our musician showcase and hear music samples from artists in the Shenandoah Valley.
..
Clementine - 153 S. Main St. Harrisonburg VA - 540-801-8881
Little Grill Collective - 621 N Main St, Harrisonburg VA - 540-434-3594
Local Chop & Grill House - 56 W. Gay Street, Harrisonburg VA - 540-801-0505
The Speakeasy Restaurant & Bar Luray VA - 401 W Main St - 540-743-5106
Woodstock Cafe 117 South Main Street, Woodstock, VA - 540-459-8888
If you would like your live band or music venue listed here send your info to: ShenandoahMusic@hotmail.com
---
Advertising and Marketing for Shenandoah Valley Business
The Shenandoah Connection is an online regional business and arts networking platform. Our Goal is to change the way you think about the internet. We provide community focused business networking to Shenandoah Valley's business communtiy both online and offline. We provide a platform for networking by offering memberships to our service and through advertising strategies. We strive to bring together the best of every industry in the region and introduce them to our members and viewers through our family of web sites.
The Shenandoah Connection
We are a full service website promotion and marketing firm located in The Shenandoah Valley of Virginia. Our highly effective search engine promotion techniques will help put your web site or business in position to go head to head with even the largest competition.
ShenandoahMusic.com
Over the past years we have been very successful in increasing the awareness of music and arts in an ever expanding area by utilizing and carefully cultivating the possibilities inherent in the most powerful foundational media networking device available anywhere: the world wide web! Business and Arts Netowrking
Americana Rhythm
Featuring Music of the Shenandoah Valley , Central Virginia and the Blue Ridge Mountains Business Advertising. A Great Place to Advertise your business and help the local music scene at the same time.
Shenandoah Valley Radio Advertising
The single greatest demand of businesses and organizations in The Shenandoah Valley, is to break through the barriers which prevent access to markets, information, knowledge, data, people, and resources. Have our Radio Stations work for you.
Roanoke Business Networking
Roanoke Biz2Biz is a response to the needs of Roanoke area companies for a cost effective, online hub to connect businesses to other businesses. It is matchless as a 24/7 business revenue generator. Roanoke Biz2Biz utilizes a variety of interactive tools, expertise in Search Engine Marketing and Business-to-Business Marketing to generate new sales leads.
Real Estate in the Shenandoah Valley
Augusta County VA Real Estate - Frederick County VA Real Estate - Page County VA Real Estate - Rockbridge County VA Real Estate - Shenandoah County VA Real Estate
Shenandoah Valley Weddings
At ShenandoahWeddings.org, our goal is very simple – to bring brides and businesses together. Statistics show that the engagement time period is among the most compelling sales opportunities for your company.
Shenandoah Valley Bridal Shows - Wedding Cakes - Wedding Carriages - Shenandoah Valley Caterers - Interior Decorations - DJ's - Shenandoah Valley Florists - Formal Wear - Honeymoon Planning - Invitations, Favors - Supplies - Locations - Lodging - Makeup Consultants - Massage - Musicians - Photographers - Planners & Consultants - Rentals - Transportation - Travel Consultants - Wedding Cake Toppers - Wedding Planners - Shenandoah Valley Video Productions - Shenandoah Valley Fine Wedding Cake Bakers - Winchester VA Wedding Photographer
---
The Shops of Strasburg Virginia Get Connected with
ShenandoahConnection.com - VA Business Networking
and www.ShenandoahValleysBest.com
We are about getting Virginia Businesses Networking with the RIGHT people.
About Us - Online Marketing - Virginia Business Directory - VA Business Forum - Virginia Employment
VA Web Design - VA Online Marketing - Virginia FREE Classifieds
We have many clients that have paid thousands of dollars to unscrupulous SEO companies that have promised search engine ranking that they cannot deliver for themselves no less anyone else. We are Powered by www.WebPromotion.com
"Top 10 search engine rankings happen only with ongoing efforts or strategies." So lets get to work!
Call for more for info on how you can get involved - 703-722-6012
Powered by www.WebPromotion.com - Contact Us
Shenandoah Valley's Best is here to help!
GET A FREE LISTING AND WEBSITE
The Internet in The Shenandoah Valley is becoming more accessible. The objective of Shenandoah's Best is to help merchants tap into the power of Local Internet search terms to reach potential customers. We've created the solution to help your Shenandoah Valley Business grow by giving you a FREE listing and helping you get a totally FREE up and running website.
Call 540-984-8190. We are here to help your business grow. :-)
SIGN UP FOR YOUR FREE WEBSITE AT: www.NewWebDomain.com
PLEASE NOTE:
For too many years, local website companies, national telemarketers and other listing companies have charged website owners for listing on websites with NO traffic by deceptive marketing practices. Many of these businesses were charging high prices for search engine traffic and positioning. Unfortunately, those using these companies did not receive the services promised. On the other hand, we are different. We don't charge for our SEO services unless we create positive results that drive traffic to YOUR SITE with listings on the FIRST PAGE OF THE SEARCH ENGINES for your desired search terms. "Top 10 search engine rankings happen only with ongoing efforts or strategies." So lets get to work! - Call Mark Barreres at 540-984-8190
"We've worked with Mark for about 6 months now and he delivers WAY MORE than he promises...

Our investment paid itself back in less than 24 hrs. Yeah - I said ONE DAY!! In the past 10 months, Mark's work with us has led to huge boosts in search engine traffic, calls, and more importantly... SALES!! Lots of them. We've yielded 40-50 times our investment is about 90 days (and counting).

If you are new to this group, take our word for it... Get involved - its worth it. If we can help any of you, let us know... Team play is what makes this work..."

Trae Taylor, President Peak Incentives, Inc
Promotional Products in Northern VA
"I was just looking at some webstats for the Huffman Trailer Sales site. Jan was the best month we've had and Feb. is already almost as good! You're doing some great work for us, thank you."
---
Website Promotion by Mark Barreres - Shenandaoh Connection
Collective Marketing Business Networking with the power of Search Engine Optimization
Shenandoah Connection - Shenandoah Music - Shenandoah Weddings - Shenandoah Wireless
Shenandoah Arts - Shenandoah Web Hosting - VA Business Networking - NC Business Networking
GrassRoots Networking - >> Internet Business Networking << Call Mark at 540-984-8190
ShenandoahConnection.com | About Us | News | Testimonials | Free Classifieds | Sign Up|
Back to Home Page