The Caves and Caverns of The Shenandoah Valley of Virginia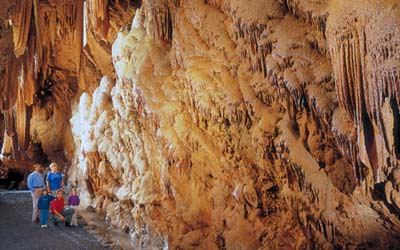 Discover the Shenandoah Valley and Enjoy the Caverns
and the Arts Entertainment of Shenandoah Valley VA
See beautiful underground formations like the famous Breakfast Bacon once featured in National Geographic – all in the only Virginia caverns with elevator service!

Traveling south of Mount Jackson, drive through one of Virginia's remaining covered bridges at Meems Bottom and explore Stonewall Jackson's campground at Rude's Hill. Traveling west from Rude's Hill, is Shenandoah Caverns, one of nature's underground wonderlands. As you walk though the spectacular Cascade Hall and the Grotto of the Gods or delight in the beauty of Rainbow Lake, the Oriental Garden, and Capitol Dome, you experience geological formations that are thousands of years in age and are still being formed today. People of all ages enjoy the American Celebrations on Parade exhibit, which features the collection of animated parade and store window displays from the past forty years.
Shenandoah Caverns, Box 1, 261 Caverns Rd., Shenandoah Caverns, VA 22847, Tel. 1-540-477-3115, Toll free: 1-1-888-4-CAVERN. Toll Free: 888-422-8376
---
Shenandoah County VA Business Networking

A Shenandoah Valley Informational website about the Business and Arts of the
Shenandoah Valley region of Virginia and West Virginia
Shenandoah Valley Online Web Connection Guide
Small Business and Arts Networking - Tourism - Advertising and Online Marketing
by Shenandoah Valley Connection Network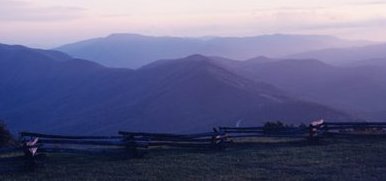 Photo by Gene Taylor
We are a full service website promotion and marketing firm located in The Shenandoah Valley of Virginia. Our highly effective search engine promotion techniques will help put your web site or business in position to go head to head with even the largest competition. We provide community focused business networking online and offline. We provide a platform for networking by offering memberships to our service and through advertising strategies. We strive to bring together the best of every industry in the region and introduce them to our members and viewers through our family of web sites on a National level. more info
ShenandoahMusic.Com
The Shenandoah Valley's Arts and Business Network
Networking the Shenandoah Valley, West Virginia and beyond
The website that is helping to change the way
people think about the Internet in The Shenandoah Valley and beyond.
It's all about networking... About us

Art from The Shenandoah Valley - Bluegrass in Virginia - Shenandoah Valley Photography - Shenandoah Valley Weddings - Musical Instrument Dealers Shenandoah Valley - Virginia Folk Musicians - Music Instruction Shenandoah Valley - Shenandoah Valley Wines - Virginia Film Festival - Things to do Shenandoah Valley - Shenandoah Valley Business and Arts Sponsors - Virginia Vacations - Shenandoah Valley Hotels - Shenandoah Valley Forums - Virginia House Concerts - Shenandoah Valley Travel Questions - Virginia Business Networking - Worldwide Business Networking
Albemarle County VA - Augusta County VA - Clarke County VA - Frederick County VA - Page County VA - Rockbridge County VA - Rockingham County VA - Shenandoah County VA - Warren County VA - West Virginia Shenandoah Valley Travel - Shenandoah Valley Advertising - Shenandoah Valley Arts - Shenandoah Valley Business Advertising - Shenandoah Valley Business Marketing - Shenandoah Valley Business Networking - Shenandoah Valley Website Promotion and Marketing - Shenandoah Valley Search Optimization - Cooperative Marketing

Questions or Comments About The Shenandoah Valley?
Travel Questions & Answers Board
www.VABusinessNetworking.com
VABusinessNetworking.com has developed techniques that have enabled clients to capture higher positions on the major search engines, above their competitors. These strategies are based on 10 years of experience in marketing business online. We spend a lot of time with business networking partners helping them and reviewing the competition and understanding the local and regional markets. We conduct a business analysis and develop unique selling points for the business. Clients are able to achieve greater success with relatively lower marketing budgets in highly competitive markets. Join us call 540-984-8190

We're a fairly new company online, almost a year old now. www.ShenandoahConnection.com has taken our search rankings to new levels in only a matter of weeks. We are a rapidly growing company that has 100's of satisfied returning customers. We wanted to promote that online but internet marketing takes time. However, with their assistance, we are now getting much higher recognition on the web. Not only that, but their team has a winning attitude that is simply there to help promote growing businesses. It's nice to find a team that's genuinely cares about the growth and preservation of small businesses.
Troy Lucas - Owner
Lucas Roasting Company, LLC
www.lucasroasting.com
How Will People Find Your Website?
On the First Page of Google! more info
ShenandoahConnection.com | About Us | News | Testimonials | Free Classifieds | Sign Up|
Back to Home Page