Country themed retail, Food Service, Entertainment and Meeting Place, Virginia Arts & Crafts, Live Animal Mini Farm, Historic Agricultural Displays, Indoor Bee Hive, Antique Carriages & Vehicles. Hold your corporate events, weddings, family reunions and other social activities at The Yellow Barn
Call 540-477-2432 to learn more about our newest attraction! Shenandoah Caverns, which opened in 1922, added Main Street of Yesteryear in 1996 and American Celebration on Parade in 2000.
New Attractions at Shenandoah Caverns:
The Yellow Barn
Get help with your wedding from Shenandoah Valley Weddings by ShenandoahWeddings.org
Check out the Caves of the Shenandoah Valley and Virginia Country Ham
---
The History of Mt Jackson Virginia
Mt. Jackson was established by Burr Harrison, Francis Slaughter, and Taverner Beale. The town was settled in 1734-35 by Benjamin Allen. He built a mill on the creek on the south side of town which became known as Benjamin Allen's Mill Creek. The village was then known as Mt. Pleasant. In 1826, an act of the General Assembly of Virginia changed the name of the village to honor General Andrew Jackson, naming it "Mount Jackson". Mount Jackson was a hospital town during the Civil War. The Union Church was used as a hospital. Stonewall Jackson camped nearby at Rude's Hill. Other commanders, such as Jubal Early, also camped in the area. Presently, Mt. Jackson's economy is a mixture of agriculture, small industry. Apples and cattle are the prime agricultural products.
---
Shenandoah County VA Apartments by John S Perry House Woodstock VA


Many amenities include an on-site Laundry Facility with new equipment, a Fitness Center with state-of-the-art exercise equipment, and a Grand Community Room. The building is secured with controlled access for residents only and electronic surveillance. For your convenience, we have trash chutes on each floor, inside mail room, and an elevator. All the hallways and general areas are heated and air-conditioned--you never have to go outside for your daily needs. more info
Shenandoah County VA Real Estate - Shenandoah County VA Business Networking
Shenandoah County VA Business Directory
---
Step back in time. Enjoy an evening of Duck Pin Bowling at Shenandoah Bowling
Lanes in Mt Jaskson Virginia - Since 1948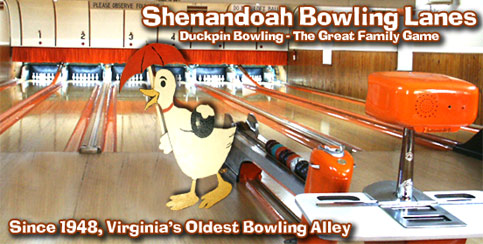 League Bowling: Monday, Tuesday, and Thursday Nights
Open play: Friday and Saturday nights and sunday afternoons
Hours Monday, Tuesday, Thursday, and Friday 7:00pm - 11:00pm
Saturday 5pm - 11pm Sunday 1pm - 6pm
Phone 540-477-2341 - Reservations 540-664-2444
---
Things to do in The Shenandoah Valley
Shenandoah Valley Hot Air Ballooning
Valley Ballooning is located in Woodstock, VA and offers flights from the heart of the beautiful Shenandoah Valley. Flying over the Shenandoah is truly rewarding and offers spectacular views.

Shenandoah Valley Photography - Shenandoah Valley Weddings
Shenandoah Valley Arts and Music Events - 1st Friday at The Art Group - Shenandoah Valley Music Festivals - Shenandoah Valley Vineyards - Shenandoah National Park - Shenandoah River Trips - Hot Air Ballooning - Golf Shenandoah Valley - Ski Shenandoah Valley - Shenandoah Valley Massage - Shenandoah Valley Weddings - Music Jam at The Daily Grind - Martinsburg WV House Concerts - First Friday's at The Art Group - Virginia House Concerts and Live Music - Puppet Shows - The Strasburg Theater - Arts and Events
- Corn Maize Quest at Bridgemont Farms - Mt Jackson Upcoming Events -
Bryce Mt Visitors Guide - Farms Mt Jackson Va
Accommodations in the Shenandoah Valley
Motels, Hotels, Cabins, House Rentals and B&B's along the Shenandoah Valley Trail

Bed and Breakfasts Inns - Cabin Rentals Shenandoah - Stay in Woodstock VA
Camping in the Shenandoah Valley - Shenandoah Valley House Rentals
Day Spas of the Shenandoah Valley - Massanutten Vacation Rentals
Shenandoah Valley Hotels
---
Shenandoah Valley Web Connection
Small Business - Arts - Tourism - Advertising
by Shenandoah Valley Connection Group
Our Vision is to change the way people think about the internet in the Shenandoah Valley. We provide community focused networking to the Shenandoah Valley business community both online and offline. We provide a platform for networking by offering memberships to our service and through advertising strategies. We strive to bring together the best of every industry in the region and introduce them to our members and viewers through our family of web sites. Learn More
Member of the Rocktown Referral Group
Shenandoah Connection featured in West Virginia Executive Magazine. Read Here.

In addition to providing easy access to web pages and services in The Shenandoah Valley, Google has set up this special feature to help you find exactly what you're looking for with a click of the mouse. List Your Business with us!
How Will People Find Your Website?
On the First Page of Google! more info

Questions or Comments About The Shenandoah Valley?
Travel Questions & Answers Board
---
The Shenandoah Connection Network
Networking The Shenandoah Valley and Beyond!
Virginia Search Engine Optimization
Getting a professional website geared toward your target audience is what the The ShenandoahConnection can do for you! Our desire it to help businesses and individual clients establish or maintain a professional presence on the World Wide Web. Website Design with Promotion
Business Marketing in the Shenandoah Valley
Web Design Shenandoah Valley - Online Marketing Shenandoah Valley - FREE Advertising Shenandoah Valley - Shenandoah Valley Business Solutions - Shenandoah Valley Business Directory - Winchester VA Business Directory - Martinsburg West Virginia Business Directory - Worldwide Business Networking - Shenandoah Valley Internet Marketing - Start Your Own Business Shenandoah Valley - Start Your Own Business Martinsburg WV - Free Advertising Winchester VA - Free Classifieds Winchester VA - Shenandoah Valley Real Estate Deals - Short Sales Shenandoah Valley - Foreclosure Shenandoah Valley - Harrisonburg VA Electric Scooters - Shenandoah Valley Electric Scooters - Virginia Discount Scooters
Advertise Shenandoah Valley Business - Business Networking - Domain Names - Hosting Plans - Espaņol - Grassroots Marketing - Gifts, Promotional Products - Pop Marketing Design - Promotional Products - Printed Tee Shirts - Radio Advertising - Search Engine Optimization Marketing - Signs and Graphics - Shenandoah Valley Best - Shenandoah Valley Business Marketing - Virginia Business Networking - Virginia Classifieds - Voice Overs - Shenandoah Web Hosting - Web Promotion - Shenandoah Valley Web Site Design - VA Web Design Development - Business Partners - Creative Web Design
Shenandoah Valley Virginia online guide to information about small business arts networking, local events in the beautiful Shenandoah Valley of Virginia and West Virginia and beyond. Shenandoah Valley of Virginia - Website Promotion by Shenandoah Connection
How Will People Find Your Website?
First Page Search Engine Optimization
---
Powered by GrassRoots Business Networking
Grassroots; pertaining to, or involving the common people, esp.
as contrasted with or separable from an elite:
GrassRootsNetworking.com creates effective ways to spread the word about your business so you retain and find customers without spending a fortune. We focus on cooperative marketing with search engine optimization
We provide a platform for networking by offering our members and networking partners our services. We strive to bring together the best of every industry and introduce them to the viewers through our family of web sites. Thinking outside the box? - Call 540-984-8190 Website Promotion
GrassRoots Networkers - Grassroots Farmers - Website Design with Promotion - GrassRoots Writers - GrassRoots Music - GrassRoots Web Promotion - Worldwide Business Networking
Worldwide Business Networking
by GrassRootsNetworking.com
If you are an honest hearted team player and a GrassRoots Networker
we would like to hear from you. Call us at 703-722-6012
New! - GrassRoots Networking Forum
If you are looking for a GREAT hosting plan Call Rocco
from New Web Domain at: 847-514-8785